Special edge grinding machine

Rehnen

SK-1
Year of construction
2022
MACHINE DATA
Machine type:

Special edge grinding machine
Manufacturer:

Rehnen
Model:

SK-1
Year of construction:

2022
Condition:

new
Operating hours:

0
PRICE & LOCATION
Location:

D - Hessen
LISTING DETAILS
Listing ID:

A898-5161
Reference number:

ISS20230208-4208
Update:

21.09.2023
DESCRIPTION
New machine

Year of manufacture 2022

THE ADVANTAGES

4 workstations on one machine
80, 300 and 1000 mm radii
Straight and curved grinding back
150 mm belt height
Pneumatic belt tensioning
Stepless pneumatic aggregate oscillation
Solid cast iron aggregate long lasting good sanding results
Suction all around the worktable
Only the highest quality components
Because we are convinced of ourselves 5 years warranty
Every machine handmade in our home country (Rehnen)
Lifetime spare parts supply
GS & BG dust tested

Motor power: 4 KW
Sanding belt size: 150 x 2700 mm
Sanding belt speed: 15m /sec.
table size: 345 x 2000 mm
space requirement: 2000 x 3000 mm
weight : 560 kg
Suction diameter : 140 mm
Sdmgj

Availability : short term
Storage location: Hochheim

The listing was translated automatically. Translation errors are possible.
SELLER
Contact person: Herr Lukas Samstag
Am Silbersee 1
65239 Hochheim am Main, Germany
Last online: A week ago
Registered since: 2008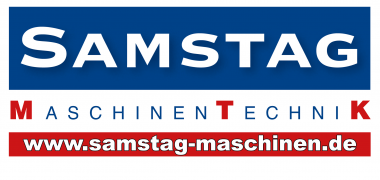 Die Firma SAMSTAG Maschinentechnik GmbH hat langjährige Erfahrung im Handel mit neuen und gebrauchten Maschinen und Anlagen für die Holz- und Kunststoffbearbeitung. Eine Auswahl an topaktuellen Ausstellungsmaschinen und attraktiven Gebrauchtmaschinen lassen das Handwerkerherz höher schlagen. Unser Service reicht von der Planung bis hin zur Lieferung, Montage und Einweisung Ihrer Maschine. Unsere angebotenen Gebrauchtmaschinen werden in der Regel vor der Auslieferung überholt oder technisch auf Funktion überprüft.

Gerne können Sie die für Sie interessante Maschine nach Ankündigung besichtigen und sich selbst ein Bild machen.

Kommen Sie vorbei! Wir freuen uns auf Sie!
Weitere rechtliche Angaben
Diese Website wird mit großer Sorgfalt ständig überarbeitet und aktualisiert. Sofern Sie dennoch Fehler bemerken oder Anregungen, Kommentare oder Rückfragen zu dieser Website haben, wenden Sie sich bitte, ggf. unter konkreter Bezugnahme auf einzelne Seiten oder Bereiche, an unseren Hauptsitz in Hochheim.
Informationen gemäß Telemediengesetz
Samstag Maschinentechnik GmbH
Am Silbersee
65239 Hochheim
Telefon: (+49) 06146 / 60860-0
Telefax: (+49) 06146 / 60860-6

Geschäftsführer: Corinna Samstag, Hans-Jörg Samstag, Lukas Samstag

Register: Amtsgericht Wiesbaden HRB 24173
Ust.ID-Nr.: DE 813 788 453
Steuer-Nr: 043 239 80546
Unsere Standorte
Hochheim - Hauptsitz
Samstag Maschinentechnik GmbH
Am Silbersee
65239 Hochheim
Telefon: (+49) 06146 / 60860 - 0
Telefax: (+49) 06146 / 60860 - 66

Filiale NRW Solingen
Samstag Maschinentechnik GmbH
Zugspitzweg 6
42699 Solingen
Telefon: (+49) 0212 / 382350 - 0
Telefax: (+49) 0212 / 382350 - 29
These listings may also fit your interest.
Your listing has been deleted successfully