Pure air dust extractors (extractor)

AL-KO

POWER UNIT 160 P - sofort verfügbar -
Year of construction
2023
Condition
Ex-display machine
MACHINE DATA
Machine type:

Pure air dust extractors (extractor)
Manufacturer:

AL-KO
Model:

POWER UNIT 160 P - sofort verfügbar -
Year of construction:

2023
Condition:

as good as new (ex-display)
PRICE & LOCATION
Location:

54634 Bitburg
LISTING DETAILS
Listing ID:

A144-7759
Update:

02.12.2023
DESCRIPTION
Technical data POWER UNIT 160 P :
- Intake port Ø: 160 mm
- nominal motor power: 2,2 kW; 400 V/50 Hz
- max. volume flow: 2000 m³/h
- nominal volume flow: 1448 m³/h
- negative pressure: 2503 Pa
- filter surface: 9 m²
- filter cleaning: Compressed air cleaning
- Filling container (roll container): 241 litres
Nflj2ecgp
- Dimensions ( L x W x H ): 1684 x 830 x 2050
- Weight: 288 kg
- execution / operating side alternatively right / left

Location: ex stock 54634 Bitburg

Top price for the show piece

The listing was translated automatically. Translation errors are possible.
SELLER
Contact person: Mr Frank Thiex
Südring 37
54634 Bitburg, Germany
Last online: Today
Registered since: 2004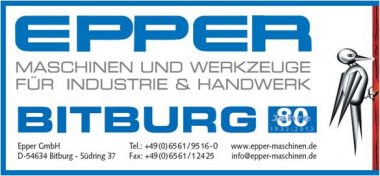 Die Firma Epper GmbH, die inzwischen in der dritten Generation als Familienbetrieb geführt wird, ist eine Maschinen Handelsgesellschaft für die Holzbearbeitung.
Zum Tätigkeitsfeld der Firma gehören: Der Verkauf von Neumaschinen, Gebrauchtmaschinen, Werkzeuge, Elektrowerkzeuge, Absauganlagen, Drucklufttechnik, Befestigungstechnik u. damit verbunden Lieferung, Einweisung u. Kundendienst. Ein gut sortiertes Ersatzteillager, Schärfdienst, täglicher Versand, kompetente Beratung, Betreuung des Kunden nach Kauf u. Finanzierungsangebote gehören bei der Firma Epper zum guten Service.
Der Familienbetrieb wurde 1935 von Heinrich Okken in der Trierer Straße in Bitburg gegründet. Es entstand ein Fachbetrieb für Werkzeuge u. Stahlwaren, der während der Weihnachtstage im Jahre 1944 eine fast vollständige Vernichtung des Inventars zu verkraften hatte. Daraufhin wurde der Verkauf in eine alte Baracke auf dem Marktplatz verlegt. In den Jahren 1947-1948 fand der Aufbau neuer Geschäftsräume in der Trierer Straße statt.
Im Juli 1951 übernahmen der Schwiegersohn Hubert Epper, gel. Kaufmann, u. seine Frau Hildegard Epper, geb. Okken, die Firma durch Kauf u. änderten den damaligen Namen "Heinrich Okken" in "Okken Maschinen" um. In Bezug auf die Qualität der Waren wurde ein Meilenstein in der Entwicklung des Betriebs gesetzt, denn Hubert Epper legte großen Wert auf die Auswahl seiner Lieferanten.
Durch eine Umstellung u. die Erweiterung der Lagerware auf die Bereiche Schreinereibedarf, Holzbearbeitungs- u. Sägewerksmaschinen, Baubeschläge u. Spezialwerkzeuge für Holz- u. Metallbearbeitung gelang es ihm außerdem einen überregionalen Bekanntheitsgrad zu erreichen u. somit mehrere Generalvertretungen deutscher u. ausländischer Lieferanten zu erlangen. Eine Ausweitung der Verkaufsfläche wurde dringend notwendig, und so wurde in der Dauner Straße in Bitburg neu gebaut. Das neue Wohn- u. Geschäftshaus wurde 1967 bezogen. Die Verkaufs- u. Ausstellungsfläche betrug 700 m². Ein weiterer Meilenstein dieser Geschäftsführung war sicherlich die Einführung des Kundendienstes, der in der heutigen Qualitätspolitik des Unternehmens eine wichtige Rolle spielt.
1977 trat Hubert Epper jr. nach erfolgreich abgeschlossenem Maschinenbaustudium als Dipl.-Ing. (FH) in die Firma ein. 1982 gründete er zusammen mit seinen Eltern die Kommanditgesellschaft "Hubert Epper jr. KG" in die er als Komplementär und seine Eltern als Kommanditisten eintraten. Die Gesellschaft befasste sich mit Verkauf, Planung, Herstellung, Lieferung, Montage und Kundendienst für Produkte und Anlagen der Holzindustrie. Hubert Epper jr. brachte dem Unternehmen einen weiteren wirtschaftlichen Erfolg, da er, für die Planung von lufttechn. Anlagen zur Absaugung von Spänen u. Stäuben sowie für die Planung, Einrichtung u. Beheizung neuer Werkstätten, ein großes Interesse u. eine fundierte Ausbildung besaß.
Die immer höheren Ansprüche der Kunden u. schlechte Parkplatzsituation in der Innenstadt, machten eine Umsiedlung ins neu errichtete Industriebgebiet "Auf Merlick" in Bitburg notwendig.
1982 errichtete die Hubert Epper jr. KG ein Bürogebäude und eine 500 m² große Halle im Industriegebiet, die 1984 bezogen wurde. Ein Rationalisierungsschritt gelang Hubert Epper jr. 1986 durch die Einführung der EDV. Als Autodidakt auf diesem Gebiet gelang es ihm, die Computer so einzusetzen, dass durch eine wesentlich schnellere und bessere Datenverarbeitung ein größerer Kundenstamm aufgebaut und die Kunden besser betreut werden konnten.
Am 01.01.1988 erfolgte die Übernahme des gesamten Geschäftsbereiches der Fa. Okken Maschinen durch die Hubert Epper jr. KG als weitere Rationalisierungsmaßnahme.
Die Gesellschaft expandierte weiter und eine zweite Halle wurde 1990 gebaut.
Im selben Jahr erkrankte Frau Hildegard Epper schwer; dies hatte zur Folge, dass sich Herr Hubert Epper sen. aus dem aktiven Geschäft zurück zog und nur noch beratend tätig war.
1998 trat Sonja Thiex, geb. Epper als Kommanditistin, im Rahmen der Erbregelung, in die Firma ein.
Im Jahre 2002 verstarb Hubert Epper jun. nach kurzer, schwerer Krankheit im Alter von 49 Jahren. Immer begeisterungsfähig und mit viel Pioniergeist ausgestattet, hinterlässt er sehr gute, durch gegenseitigen Respekt geprägte, Geschäftsbeziehungen zu Kunden und Lieferanten.
Weitere rechtliche Angaben
Betreiber der Internetseiten
Epper GmbH
Südring 37
54634 Bitburg


Handelsregistereintrag
HRB Wittlich 32450, Sitz der Gesellschaft ist Bitburg
Geschäftsführung und verantwortlich für den Inhalt
Sonja Thiex, Frank Thiex
St.-Nr.: 1065709532
USt.-ID: DE-280091030
Haftungsausschluss
Trotz regelmäßiger inhaltlicher Überprüfung dieser Internetseiten übernehmen wir keine Haftung für
die Inhalte externer Verknüpfungen. Eine Haftung oder Garantie für die Aktualität, Richtigkeit und
Vollständigkeit der zur Verfügung gestellten Links auf diesen Webseiten kann nicht gewährleistet
werden
These listings may also fit your interest.
Your listing has been deleted successfully