Transformer

IFT

DH 630 / 12
Year of construction
1990
Location
Ludwig-Erhard-Ring 17, 15827 Blankenfelde-Mahlow, DE
MACHINE DATA
Machine type:

Transformer
Manufacturer:

IFT
Model:

DH 630 / 12
Year of construction:

1990
Condition:

refurbished (used)
PRICE & LOCATION
Location:

Ludwig-Erhard-Ring 17, 15827 Blankenfelde-Mahlow, DE
Machine for rent:

is possible
LISTING DETAILS
Listing ID:

A748-593
Reference number:

4500
Update:

08.11.2022
DESCRIPTION
Our Best Sellers!

Extremely dynamic short circuit protection, therefore excellently suited for rugged industrial use with high Schalthaeufigkeiten, electrical loads and harmonic components. Stable boiler. Reduced losses (Po / Pk between BA 'and A-C'). Available with outer-cone Elastimold Steckdurchfuehrungen, of course, also with HV / LV-sided porcelain execution.
Rwhytr

Transformer is always equipped with a dial thermometer with two contacts and pointer, with optional transformer DGPT2 full protection.

Ausdehnerversion with 2-float Buchholz relay possible.

Delivery to a series of 35 QUANTITY devices. 12 months warranty.
SELLER
Contact person: Herr Michael Lehmann
Ludwig-Erhard-Ring 17
15827 Blankenfelde-Mahlow, Germany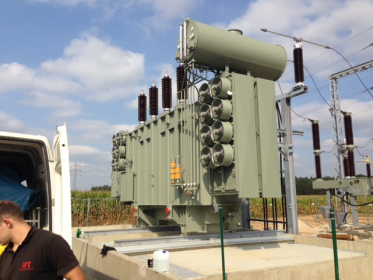 Wir verfügen über einen umfangreichen eigenen Lagerbestand von ca. 180 Öl- und Gießharztransformatoren der unterschiedlichsten Leistungs- und Spannungsbereiche, der teilweise sofort bzw. mit sehr kurzer Lieferzeit zur Verfügung gestellt werden kann.
Weitere rechtliche Angaben
Angaben gemäß § 5 TMG:

Koopmann Transformatoren- und Energietechnik GmbH
Ludwig-Erhard-Ring 17
15827 Blankenfelde-Mahlow
Vertreten durch:

Geschäftsführer: Lothar Koopmann

Kontakt:
Telefon: 033708 4433-22
Telefax: 033708 4433-11

Registereintrag:
Eintragung im Handelsregister.
Registergericht: Amtsgericht Potsdam
Registernummer: HRB 23127
These listings may also fit your interest.
Your listing has been deleted successfully