Universal Milling Machine

OPTImill

MT 50
Location
Industriestr. 81, 90537 Feucht, DE
MACHINE DATA
Machine type:

Universal Milling Machine
Manufacturer:

OPTImill
Model:

MT 50
Condition:

new
PRICE & LOCATION
Location:

Industriestr. 81, 90537 Feucht, DE
LISTING DETAILS
Listing ID:

A141-3744
Update:

11.05.2023
DESCRIPTION
Universal milling machine
Make: OPTimill
Model: MT 50
Item no.: 3336005
Condition: New machine
travels:
- X-axis 580 mm
- Y-axis 200 mm
- Z-axis 340 mm
serially equipped with:
- 3-A digital display DPA 2000
- automatic feed in X-axis
- milling mandrel long 16 mm
Bc207itq
- milling arbor long 22 mm
- Drill chuck B 18
- Gear rim drill chuck 3-16 mm/B 18
- Reducing bushing MK 2 with extraction slot
- Reducing bushing MK 3 with knock-out slot
- Machine light
- Coolant device
- Operating tool
- Operating instructions

The listing was translated automatically. Translation errors are possible.
DOCUMENTS
1413744.pdf

(PDF)
SELLER
Contact person: Herr Felix Rehm
Industriestr. 81
90537 Feucht, Germany
Last online: A week ago
Registered since: 2007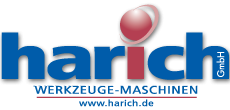 Bei der Firma harich Werkzeuge-Maschinen GmbH handelt es sich um ein Handelshaus für neue und gebrauchte Werkzeugmaschinen und deren Zubehöre, mit über 30-jähriger Marktzugehörigkeit.

Ein Service-Team von derzeit 20 Mitarbeitern stellt sicher, dass gebrauchte Maschinen Ihren Anforderungen entsprechen und auch bei Kunden Montagen durchgeführt werden können.

Je nach Bedarf können Maschinen überholt, neu lackiert und mit Gewährleistungen und geometrischen Abnahmeprotokollen versehen,
unser Werk verlassen.
Eine eigene Führungsbahnschleifmaschine mit Schleifbereich 2000 x 900 mm wurde um eine Doppelständer-Hobelmaschine mit
Arbeitsbereich 1500 x 1500 mm ergänzt.
These listings may also fit your interest.
Your listing has been deleted successfully