Universal Milling Machine

MAHO

MH 700 C
Year of construction
1984
MACHINE DATA
Machine type:

Universal Milling Machine
Manufacturer:

MAHO
Model:

MH 700 C
Year of construction:

1984
Condition:

used
LISTING DETAILS
Listing ID:

A407-2997
Reference number:

1038-20863
Update:

19.01.2023
DESCRIPTION
x-travel 700 mm
y-travel 500 mm
z-travel 450 mm
table surface area 900 x 500 mm
Bfbmx0fzvf
spindle stroke 100 mm
tool taper ISO 40
turning speed range 20 - 3150 U/min
feeds - cross 1 - 3000 mm/min
feeds - longitudinal 1 - 3000 mm/min
feed power in the axis x + z 8.000 N
feed power in the axis y 24.000 N
rapid traverse in the axis x + y 6 m/min
rapid traverse in axis z 11,4 m/min
total power requirement 40 kVA
weight of the machine ca. 3,3 t
dimensions of the machine ca. 3,8 x 3,6 x 2,2 m
electrics - voltage/frequency 380 / 50 V/Hz


CNC Control Maho CNC 432

Continous Path Control Philips CNC 432
SELLER
Contact person: Herr Mustafa Ercetin
Tackweg 4
47918 Tönisvorst, Germany
Last online: Today
Registered since: 2009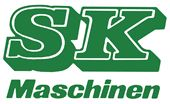 Spezialisiert auf den Ankauf und Verkauf von hochwertigen gebrauchten Werkzeugmaschinen bieten wir umfangreiche Leistungen an. Seit rund 40 Jahren handelt unser Unternehmen weltweit mit gebrauchten Werkzeugmaschinen und kennt den Markt sehr gut. Ob Sie kaufen, verkaufen oder fachkundige Beratung möchten, wir sind für Sie da!

Specialized for trading with high quality used machine tools we offer extensive services. Since 40 years our company trades global with used machine tools and knows the market very well. Wether buying selling or an expert advice, we are at your service!
Weitere rechtliche Angaben
Angaben gemäß § 5 TMG:

SK Maschinen-Service GmbH
Tackweg 4
Gewerbegebiet Tempelshof
47918 Tönisvorst
Inhaber & Geschäftsführer:

Jutta Krins / Valentin Wienert

Registereintrag:

Eintragung im Handelsregister.
Registergericht Krefeld
Registernummer: HRB 10767
Umsatzsteuer:

Umsatzsteuer-Identifikationsnummer gemäß §27 a Umsatzsteuergesetz:
DE 814451882
These listings may also fit your interest.
Your listing has been deleted successfully