14300 liters tank made of V2A
Fixed price plus VAT
5,450 €
MACHINE DATA
Machine type:

14300 liters tank made of V2A
Condition:

ready for operation (used)
PRICE & LOCATION
Price:

5,450 € Fixed price plus VAT
LISTING DETAILS
Listing ID:

A798-4499
Reference number:

7536-618
Update:

01.02.2023
DESCRIPTION
General Location Bremen Condition used
Tank volume 14.300 liters Max. Overpressure 0,50 bar Specific weight of the medium 1.4 (to/m³) Type of construction standing form feet Number of feet 4 pieces
Citzol23ht
Technical data / dimensions Diameter inside 2,480 mm Cylindrical height 2,250 mm Total height 3,750 mm Wall thickness bottoms 4 mm Wall thickness cylinder 3 mm
Equipment manhole / dome in cylinder Type plate Equipment crane eyes Outlet 88 mm Remarks slight adhesions, manhole cover plated Remarks 2 feet shorter than the other 2 feet; these each have 1 welded metal part or a steel girder under the base plate (see photos); to stand on

The listing was translated automatically. Translation errors are possible.
SELLER
Contact person: Herr Julian Beckh
Theodor Barth Str. 25
28307 Bremen, Germany
Last online: A week ago
Registered since: 2019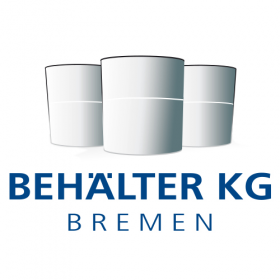 Behälter KG Bremen - Über 50 Jahre Erfahrung im Bereich gebrauchte & werksneue Edelstahlbehälter, Rührwerke und Prozesstechnik. Über 1500 Behälter ständig ab Lager verfügbar!
Weitere rechtliche Angaben
Behälter KG Bremen GmbH & Co.
Theodor-Barth-Str. 25
28307 Bremen
Telefon: +49 421 34 85 10
Sitz der Gesellschaft: Bremen (HRA 18334 des AG Bremen)
USt-ID: DE114522280
Pers. haft. Ges.: Behälter Verwaltungs-GmbH Bremen (HRB 6939 des AG Bremen),
Geschäftsführer: Julian Beckh

Die Inhalte unserer Seiten wurden mit größter Sorgfalt erstellt. Für die Richtigkeit, Vollständigkeit und Aktualität der Inhalte können wir jedoch keine Gewähr übernehmen. Als Diensteanbieter sind wir gemäß § 7 Abs.1 TMG für eigene Inhalte auf diesen Seiten nach den allgemeinen Gesetzen verantwortlich. Nach §§ 8 bis 10 TMG sind wir als Diensteanbieter jedoch nicht verpflichtet, übermittelte oder gespeicherte fremde Informationen zu überwachen oder nach Umständen zu forschen, die auf eine rechtswidrige Tätigkeit hinweisen. Verpflichtungen zur Entfernung oder Sperrung der Nutzung von Informationen nach den allgemeinen Gesetzen bleiben hiervon unberührt. Eine diesbezügliche Haftung ist jedoch erst ab dem Zeitpunkt der Kenntnis einer konkreten Rechtsverletzung möglich. Bei Bekanntwerden von entsprechenden Rechtsverletzungen werden wir diese Inhalte umgehend entfernen.
These listings may also fit your interest.
Your listing has been deleted successfully