Spare part for Copying router

Knoevenagel
Location
D - Nordrhein-Westfalen
MACHINE DATA
Machine type:

Spare part for Copying router
Manufacturer:

Knoevenagel
Condition:

used
PRICE & LOCATION
Location:

D - Nordrhein-Westfalen
LISTING DETAILS
Listing ID:

A115-7967
Reference number:

6383
Update:

29.11.2022
DESCRIPTION
Spare part for Copying router Knoevenagel
Kranc9hgp
8 Piece
motor 1,1 kW / 2,745 U/min.
SELLER
Contact person: Herr Friedrich-Wilhelm Budde
Am Betonwerk 15
32683 Barntrup, Germany
Last online: Yesterday
Registered since: 2003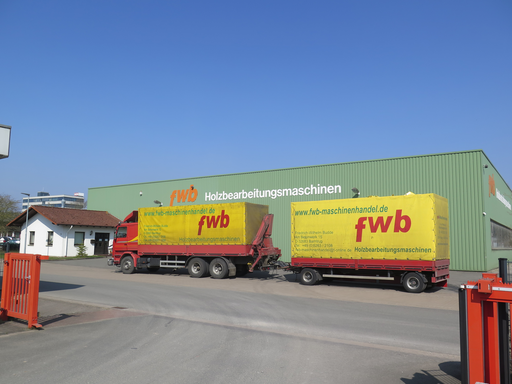 Die Firma fwb-Maschinenhandel bietet eine große Auswahl aller Arten von gebrauchten und neuen Maschinen für die Holzbearbeitung. Auf 4000 m² Ausstellungsfläche kann der Kunde die für seine Zwecke richtige Maschine auswählen. Ein Schwerpunkt im Maschinenangebot sind gebrauchte Vierseitenhobel und Maschinen für die Massivholzver- und -bearbeitung. Der Kundenkreis besteht aus Tischlereien, Möbelfabriken und Sägewerken im In- und Ausland. Einen großen Teil des Exportgeschäfts nimmt der Handel mit Kunden in Russland, Polen, Rumänien und dem Baltikum ein. Mitarbeiter beraten Sie gern auch in den Sprachen polnisch, englisch und französisch.

fwb-Maschinenhandel offers a big variety of used and new woodworking machinery.
In a warehouse of 4000 m² exhibition area the customer can select the right machines for his purpose. The company is specialized in four side planers and machines for solid wood working. The circle of customers consists of cabinet makers, carpenters, furniture factories and sawmills inside Germany and abroad. A big part of the export business is the trade with customers in Russia, Poland, Romania and the Baltic states. Our office staff speaks the languages Polish,English and french.
Weitere rechtliche Angaben
fwb-Maschinenhandel GmbH
Am Betonwerk 15
D-32683 Barntrup
Telefon: 05263-2108
Fax: 05263-953223
Geschäftsführer:
Friedrich-Wilhelm Budde
Sabine Budde
Umsatzsteuer-Identifikationsnummer: DE 266790913
Amtsgericht Lemgo: HRB 6903
These listings may also fit your interest.
Wiefelstede, Germany
Line drilling machine, multi-spindle drilling machine -1x motor defective - pneumatically exciting -Max. Drilling distance: 1000 mm -Drive: 0.36 kW 2800 rpm -Weight: 280 kg Hh3o0nlm8
Bayern, Deutschland
Workpiece diameter max. 600 mm 1 milling unit Cq3iats3
San Giovanni Al Natisone
SECOND-HAND COPYING ROUTING SHAPER KNOEVENAGEL MOD. FO1100 2F 1SB 1RLA - 1 milling unit 11Kw - 2 milling unit 11Kw Ccxm9t2x9o - Plate diam. 1000Mm
Hövelhof
A hole row drilling machine from Knoevenagel is offered here. Data: Table size: 58 x 43 cm (with a scale of 0-50 cm) The table is height-adjustable and tiltable VGC 18809 420 V 4.0A 15 spindles Bfjeprdsio All further information as well as the condition can be found in the pictures.
Your listing has been deleted successfully