Transformer

IFT

Transformatoren
Condition
Ex-display machine
MACHINE DATA
Machine type:

Transformer
Manufacturer:

IFT
Model:

Transformatoren
Condition:

as good as new (ex-display)
PRICE & LOCATION
Machine for rent:

is possible
LISTING DETAILS
Listing ID:

A747-519
Reference number:

630
Update:

04.10.2022
DESCRIPTION
We have an extensive own stock of approx. 210 oil and cast resin transformers of the most different achievement and voltage ranges, which can be made available partly immediately and/or with very short delivery time.
These devices can be called up via our online database with individually printable data sheet. The database has an internal search function and is maintained on a daily basis.
Due to our close contacts to various transformer manufacturers, we can also offer you new transformers at optimized prices and delivery times.
Furthermore, as former employees of TRO Berlin (Transformatorenwerk Oberschoeneweide), we deal with the maintenance and repair of oil transformers in the power range from 50 kVA to 63000 kVA, at a voltage level between 6 kV and 110 kV.
We also offer our customers the conversion of transformers from Dehner design to Hermetic design. In this connection the complete transformer is revised, that is:
- Drying of the active part and the transformer oil,
Vyf0mjn9
- new painting of the boiler,
- new bracing of the active part,
- on request conversion to Elastimold plug-in bushings,
- renewal of all gaskets,
- Final test (winding resistance, transformation measurement and insulation resistance) in our own electrical test field, including voltage test.

The listing was translated automatically. Translation errors are possible.
SELLER
Contact person: Herr Michael Lehmann
Ludwig-Erhard-Ring 17
15827 Blankenfelde-Mahlow, Germany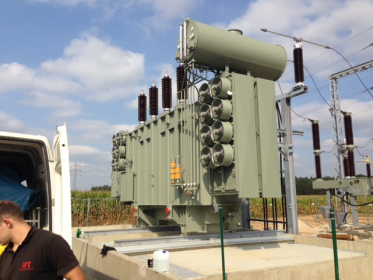 Wir verfügen über einen umfangreichen eigenen Lagerbestand von ca. 180 Öl- und Gießharztransformatoren der unterschiedlichsten Leistungs- und Spannungsbereiche, der teilweise sofort bzw. mit sehr kurzer Lieferzeit zur Verfügung gestellt werden kann.
Weitere rechtliche Angaben
Angaben gemäß § 5 TMG:

Koopmann Transformatoren- und Energietechnik GmbH
Ludwig-Erhard-Ring 17
15827 Blankenfelde-Mahlow
Vertreten durch:

Geschäftsführer: Lothar Koopmann

Kontakt:
Telefon: 033708 4433-22
Telefax: 033708 4433-11

Registereintrag:
Eintragung im Handelsregister.
Registergericht: Amtsgericht Potsdam
Registernummer: HRB 23127
These listings may also fit your interest.
Your listing has been deleted successfully