Double Column Eccentric press 135 tons.

Exner

DEXRH 135/1000/1
Year of construction
2018
Location
Scharpenberger Str. 94, 58256 Ennepetal, DE
MACHINE DATA
Machine type:

Double Column Eccentric press 135 tons.
Manufacturer:

Exner
Model:

DEXRH 135/1000/1
Machine number:

DEXRH 135/1000/1
Year of construction:

2018
Condition:

new
PRICE & LOCATION
Location:

Scharpenberger Str. 94, 58256 Ennepetal, DE
LISTING DETAILS
Listing ID:

A167-3445
Update:

15.03.2022
DESCRIPTION
Double-stand eccentric press type DEXRH 135/1000/1
Nominal pressure capacity 1.350 kN
table: width 1.000 mm depth 830 mm
Vmalwklf
distance: 1.050 mm
ram adjustment: max. 100 mm
stroke adjustment: from 20 - 140 mm
tool height: 400 mm
The double column eccentric press type DEXRH guarantees an economic use in every company.
The machine is delivered with CE-marking. The press is equipped with one connecting rod.
The press stand is of heavy welded steel construction. Low stress annealed and generously dimensioned, the column ensures great rigidity and low bounce to protect the tools.
Lateral machining of the press ram allows the mounting of feeding devices.
The press ram is also of heavy welded steel construction and stress relieved.
Eight particularly long, adjustable, plastic-covered guide rails guarantee precise running, even with eccentric tool loads. The guideways cover every stroke.
The stool plate is equipped with T-slots according to DIN 650.
The stool is adjusted by a brake motor and frequency converter. This adjusts the ball pins synchronously via an integrated worm gear, up or down depending on the direction of rotation.
The stool depth is entered at the control panel. The stool moves by motor.
The stool adjustment travel is queried via an absolute encoder.
The hydraulic overload protection is

The advertisement was translated automatically. Translation errors are possible.
DOCUMENTS
1673445.pdf

(PDF)
SELLER
Contact person: Herr Maik Dame
Scharpenberger Str. 94
58256 Ennepetal, Germany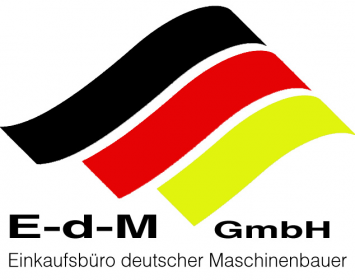 Die Firma E-d-M GmbH im Verbund mit den Firmen Schubert und EXNER Pressentechnologie.

Die Firma E-d-M GmbH stellt sich als Einkaufsbüro für den deutschen Maschinenbau vor. Wir bieten Maschinen und Komponenten aus unserer Entwicklung zur Verwendung im allgemeinen Maschinenbau. In Verbindung mit unseren Darstellungen in Katalogen, Broschüren und im Internet sind wir auch in der Lage Sonderprodukte oder spezielle Kundenwünsche auf Anfrage zu berücksichtigen. Im Firmenverbund stehen uns Konstrukteure und eine eigene Fertigung bis hin zur Großmaschinenmontage zur Verfügung.

Zu unseren Aufgaben gehört die Beschaffung der von unseren Kunden gewünschten Artikel. Auch außergewöhnliche Wünsche werden wir zu Ihrer Zufriedenheit erfüllen. Ein großer Teil unserer Produktpalette ist u. a. die Beschaffung/Bereitstellung von

* Betriebseinrichtungen

* Betriebsmitteln

* Maschinen

* Ladungssicherung
These listings may also fit your interest.