Bollegraaf Baler HBC100A (75kW)

Bollegraaf

HBC100A (75kW)
Year of construction
2003
MACHINE DATA
Machine type:

Bollegraaf Baler HBC100A (75kW)
Manufacturer:

Bollegraaf
Model:

HBC100A (75kW)
Machine number:

W230-059
Year of construction:

2003
Condition:

refurbished (used)
Operating hours:

29441
PRICE & LOCATION
Machine for rent:

is possible
LISTING DETAILS
Listing ID:

A592-9732
Reference number:

W230-059
Update:

06.02.2022
DESCRIPTION
Sold by Bollegraaf Recycling Solutions, the original manufacturer of this Bollegraaf baler

Bollegraaf HBC100A Balenpers (75kW)
Weight: 34.200 kg
Construction year: 2003

Materials previously baled: paper & cardboard

Baler will be sold fully refurbished according to the 'Bollegraaf OEM Certified Refurbishment standards'. This inclused 2 year guarrantee. Contact us for more information or a quotation.

Jw0sye
Technical specifications of the baler, type HBC110F

Volume capacity m3/hour max. - 815 660 500
Volume weight kg/m3 max. - 20 50 100
Weight capacity T/hour max. - 16,3 33 50

Average material weight
20 kg/m³ plastic PET
35 kg/m³ plastic HDPE
50 kg/m³ Loose cardboard
100 kg/m³ loose newspaper / cardboard
200 kg/m³ magazines

The above mentioned capacities apply only if the machine is being used judiciously and has been sufficiently fed without interruptions for at least one hour with proper material.

Bale weight - till 1400 kg, depending on the type of material and bale length.
Bale length - Can be set.
Bale height - 720 mm.
Bale width - 1100 mm.

Hopper size - 1100 mm x 1600 mm - these dimensions also determine the size of the material that is put into the machine.

Pressure force ram - max. 95 tons.
Pressure force pre-press flap - max. 52 tons.

Cycle time, excl. wire knotting time - 19 seconds.
Motor output - 75 kW (100 HP).
Motor Twistomat (knotter) - 1.5 kW (-- HP)., SEW
Motor counter pressure pump - 1.1 kW (2 HP).
Motor needle installation - 7.5 kW (-- HP)., SEW
Motor oil cooler fan - 0.55 kW (0,74 HP).
Motor pump for oil cooling - 2.2 kW (2,95 HP).
Operating pressure - 250 bar.

Machine weight - approx. 37620 kg.
Number of wires - 5 vertical.
Oil quantity - 1423 liters.
Brand and type of oil - MOBIL Univis N46.
Color - baler RAL 6029 (mint green).
- safety grids RAL 1021 (cadmium yellow).

Baler dimensions - length 11765 mm;
- width 2500 mm;
- height 7104 mm.
Switch box

The switch box is placed to the rear left of the press on the floor.
No motor groups are incorporated in the switch box for the feed belts (if any). There is a potential-free contact for the belt control.
SELLER
Contact person: Herr Hessel van der Werff
Tweede Industrieweg 1
9902AM Appingedam, Netherlands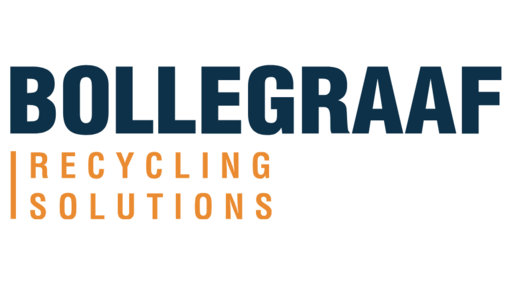 Bollegraaf Recycling Solutions ist ein führender globaler Entwickler und Hersteller von schlüsselfertigen
Recycling-Lösungen und Recycling-Anlagen mit Sitz in den Niederlanden. Bollegraaf Recycling Machinery b.v.
und Lubo Systems b.v. sind Fertigungsunternehmen der Bollegraaf Group.

Wir arbeiten auf Grundlage des innovativen Charakters und der Zuverlässigkeit unserer Lösungen und der
hohen Qualität unserer Produkte und Serviceleistungen. Hierfür können wir auf eine Geschichte von mehr
als 50 Jahren mit der entsprechenden Erfahrung zurückblicken. Bollegraaf unternimmt hohe Investitionen
in Forschung und Entwicklung, sowie für die modernsten Fertigungsanlagen und Einrichtungen. Damit
gewährleisten wir ein ertragreiches und nachhaltiges Geschäft für unsere Kunden.
Weitere rechtliche Angaben
Chamber of Commerce Groningen 02038528
Bollegraaf Recycling Solutions and Lubo Recycling Solutions are part of the Bollegraaf Group
TELEPHONE & FAX
Telephone: +31596654333
Fax: +31596625390
These listings may also fit your interest.