Circular sawing machines

Bernardo

Classic 3200 C
Fixed price plus VAT
4,800 €
Year of construction
2022
MACHINE DATA
Machine type:

Circular sawing machines
Manufacturer:

Bernardo
Model:

Classic 3200 C
Year of construction:

2022
Condition:

new
PRICE & LOCATION
Price:

4,800 € Fixed price plus VAT
LISTING DETAILS
Listing ID:

A730-9542
Reference number:

767
Update:

27.09.2022
DESCRIPTION
Carriage length: 3200 mm

Cutting width at the width stop: 1250 mm

Cutting width at the crosscut fence: 2800 mm

Cutting depth: 90 mm

Scorer: yes

Saw blade height adjustment: manual

Pivot adjustment saw blade: manual

Width stop adjustment: manual

Display saw blade angle: scale

Mxqopg
Cutting height display: -

Display width stop: Scale

Display cutting ruler: Scala

Saw blade diameter: 315mm

Speeds: 4000 / 6000 rpm

Engine power: 5,5 kW

Suction connection: 100 mm

machine length: 3300mm

Machine width: 2000mm

Weight: 650kg

The advertisement was translated automatically. Translation errors are possible.
SELLER
Contact person: Herr Josef Graf
Herrnzell 6
82281 Egenhofen, Germany
Last online: A week ago
Registered since: 2005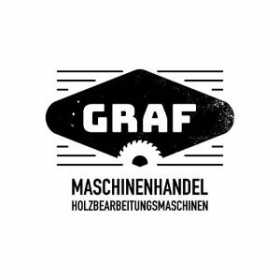 Über uns:

Das Unternehmen
Graf Maschinenhandel wurde 1990 gegründet und steht für Qualität, Kompetenz und langjährige Erfahrung. Wir sind ein Meisterbetrieb für Systemelektronik und Automatisierungstechnik und spezialisiert auf den An- und Verkauf von Gebrauchtmaschinen. Unser kleines Team steht jederzeit gerne mit Rat und Tat zur Seite.

Unsere Maschinen
Wir bieten ein großes Sortiment an gebrauchten Holzbearbeitungsmaschinen, die bei uns auf Lager und somit bei Bedarf sofort für Sie verfügbar sind. Die Maschinen werden in unserer Werkstatt getestet und überprüft, um einen betriebsbereiten Zustand sicher zu stellen.

Wir sind ständig auf der Suche nach gebrauchten Holzbearbeitungsmaschinen und der perfekte Partner für eine diskrete Abwicklung bei Betriebsauflösungen. Zögern Sie also nicht, wenn Sie uns ein Angebot unterbreiten wollen oder Fragen bestehen.

Kundenfreundlichkeit
Service wird bei uns großgeschrieben, weshalb wir wenn gewünscht, die Zollabwicklung für unsere Kunden übernehmen, sie bei Verladung und (Export-)Verpackung unterstützen und die Organisation von Lieferung / Abholung per Spedition abwickeln. Eine Verladung bis 8t ist mit dem Gabelstapler möglich, genauso auch eine Containerverladung für den Export. Auf unserer Ausstellungsfläche über 1200 m² können die Maschinen bei voriger Terminvereinbarung gerne besichtigt und getestet werden.
Weitere rechtliche Angaben
Graf Maschinenhandel GmbH
Herrnzell 6
D - 82281 Egenhofen - Herrnzell


Vertretungsberechtigter Geschäftsführer: Josef Graf sen. und Josef Graf jun.

Registergericht: Amtsgericht München
Registernummer: HRB 109581

Umsatzsteuer-Identifikationsnummer gemäß § 27 a Umsatzsteuergesetz: DE 175 435 660
TELEPHONE & FAX
Telephone: +49 8145 4649581
Fax: +4981451470
These listings may also fit your interest.