Gluing press with 11 stores

BECK

Treppenstufen + Schalungsträger usw.
Year of construction
2001
Location
Am Risisee 4, 77855 Achern-Gamshurst, DE
MACHINE DATA
Machine type:

Gluing press with 11 stores
Manufacturer:

BECK
Model:

Treppenstufen + Schalungsträger usw.
Machine number:

21670
Year of construction:

2001
Condition:

excellent (used)
PRICE AND LOCATION
Location:

Am Risisee 4, 77855 Achern-Gamshurst, DE
LISTING DETAILS
Listing ID:

A591-408
Reference number:

09-C1-20153
Update:

30.12.2021
DESCRIPTION
-4500 x 500 mm
-power 4,5 kW
Rgzlf3rq
-gluing press with stores for the production of solid wood Panels
for e.g. staircase steps and stringers
-press store with 11 compartments
-transport and gluing equipment
-the unit is designed for the gluing of panels
-the lamellas are glued blunt

--The timber is put on the cross conveyor, brought to the
gluing unit separately and after the glue application the
transport takes place on the transport belt of the accumulative
transfer. The glued block of lathes is now transported to the
charging table of the ready store.

The downholder lowers automatically and fixes the block of lathes,
then the pressing cylinders move out. The store lift conveys the
gluing store into the free storing space, afterwards the store
lift takes the gluing store that rests the longest in the storage
rack and brings it to the charging unit. The cycle time is
approx. 2,5 minutes including charging and decharging.
The ready glued panels are transported on the transfer table.
-electric 400 Volt / 50 Hz
the new Price was 150.000 EUR
DOCUMENTS
591408.pdf

(PDF)
SELLER
Contact person: Herr Michael Jörger
Am Risisee 4
77855 Achern-Gamshurst, Germany
Last online: Yesterday
Registered since: 2013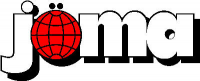 Die Firma jöma GmbH wurde 1985 von Michael Jörger als Einzelfirma gegründet und 1990 in eine GmbH umbenannt. jöma GmbH ist für Sie der richtige Ansprechpartner wenn es um Maschinen für die Holzbearbeitung aller Art geht. Wir sind spezialisiert auf An- und Verkauf, auf die Reperatur, Generalüberholung, Montage und Service von neuen und gebrauchten Holzbearbeitungsmaschinen, insbesondere im Bereich Keilzinken und Hobeln.
Ob Sie eine neue Fertigungslinie oder die Einbindung einer gebrauchten und überholten Maschine in Ihre bestehende Fertigungslinie planen, wir sind mit jahrelanger und weltweiter Erfahrung und einem qualifiziertem Mitarbeiterstamm in der Lage Ihr Problem zu lösen.

Wenn Sie eine gebrauchte Holzbearbeitungsmaschine suchen, finden sie in unserer Datenbank derzeit eine Auswahl von ca. 150 Maschinen aus 22 Gruppen. Die Datenbank wird fortlaufend auf den neustens Stasnd gebracht. Sollten Sie Ihre Wunschmaschine dennoch nicht finden, oder eine bestehende Maschine oder Fertigungsanlage verkaufen wollen, rufen Sie uns einfach an oder senden Sie uns eine E-mail.
TELEPHONE & FAX
Telephone: +49 7841 6709325
Fax: +49784178416406915
These listings may also fit your interest.
Your listing has been deleted successfully