Edge banding press

Beck Maschinenbau GmbH

MOBIL 2500
Location
Im Grund 23, 72505 Krauchenwies - Bittelschieß, DE
MACHINE DATA
Machine type:

Edge banding press
Manufacturer:

Beck Maschinenbau GmbH
Model:

MOBIL 2500
Condition:

new
PRICE & LOCATION
Location:

Im Grund 23, 72505 Krauchenwies - Bittelschieß, DE
LISTING DETAILS
Listing ID:

A672-318
Reference number:

Mobil 2500
Update:

19.01.2023
DESCRIPTION
MOBIL 2500

The mobile edge banding press. Ideal for constructing furniture!



Technical Description MOBIL Typ 2500 (Typ 3000):

> rigid, welded steel frame with fixed fences and spacer for massive, veneer and plastic edges

> integrated electro heating rod made of resistant AL-alloy, lateral cut: 64 x 46 mm, controllable form 50 - 248°C , power 1200 (1459) Watt

> 4 (6) clamping and pressing aggregates, each aggregate mounted on 7 ball bearings; each aggregate has its own clamping and pressing cylinder; adjustable width of the work piece 12 - 105 mm. Width of massive surface to be glued on the work piece is about 50 mm

> adjustable counter bearings for exact conformity of the edges

> pressing cylinders and the counter bearings with vulcanised rubber plating's

> fixed fences and spacer are covered by a special glue abrasive coating

> the pneumatic pressing units are controllable separately, always pair wise; each pair: 1 shifter for: clamping of work pieces and 1 shifter for : pressing of work pieces

> press is mobile on 4 guide rollers, 2 rollers with break

> the press is equipped with a pneumatic maintenance unit, adapter 3/8 ´´, pressure controllable from 3-10 bar. Electric connection for the heating rods: 230 V, 50 Hz, 1200 (1450) Watt.



working space w x h x d in mm: 2500 x 50 x 105

overall dimensions w x h x d in mm: 2700 x 1200 x 850



Tsevbtn8
Additional options and accessories for MOBIL on request!!!
DOCUMENTS
672318.pdf

(PDF)
SELLER
Contact person: Herr Reinhold Beck
Im Grund 23
72505 Krauchenwies - Bittelschieß, Germany
Last online: Today
Registered since: 2010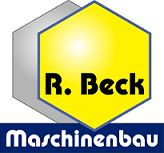 Maschinen und Anlagen für die Holz-, Metall- und Kunststoffbearbeitung!

Mehr als 30 Jahre sind vergangen, seit die Reinhold Beck Maschinenbau GmbH gegründet wurde.

Zu Beginn standen ausschließlich Maschinen und Geräte zur Holzbearbeitung auf dem Programm. Im Laufe der Jahre wurden intelligente Lösungen für unterschiedliche Bereiche entwickelt.

Das Unternehmen mit sitzt im oberschwäbischen Krauchenwies wartet mit einer hohen Fertigungstiefe mit eigener CAD-Konstruktion, modernen Fertigungsanlagen in den Bereichen Drehen, Fräsen, Bohren und Schweißen auf. Ergänzt wird dies durch eine eigene Montage und einen Steuerungsbau.
Somit sind alle Vorausetzungen gegeben, auch Sondermaschinen auf Kundenwunsch zu fertigen.
Weitere rechtliche Angaben
Inhaltlich verantwortlich gemäß § 5 TMG sowie nach § 55 Abs. 2 RStV:
Reinhold Beck Maschinenbau GmbH
Im Grund 23
72505 Krauchenwies

Geschäftsführer: Reinhold Beck

Amtsgericht Ulm , HRB 711209

Kontakt:
Tel.: 07576 962978-0

Umsatzsteuer-Identifikationsnummer gemäß § 27 a Umsatzsteuergesetz:
Ust-IDNr.: 245717521

Der Inhalt dieser Internetseiten ist unverbindlich.
Die Reinhold Beck Maschinenbau GmbH übernimmt keine Gewähr für die aufgeführten Daten und Aussagen.

Streitschlichtung
Wir sind nicht bereit oder verpflichtet, an Streitbeilegungsverfahren vor einer
Verbraucherschlichtungsstelle teilzunehmen.

Haftung für Inhalte
Als Diensteanbieter sind wir gemäß § 7 Abs.1 TMG für eigene Inhalte auf diesen Seiten nach den
allgemeinen Gesetzen verantwortlich. Nach §§ 8 bis 10 TMG sind wir als Diensteanbieter jedoch nicht
verpflichtet, übermittelte oder gespeicherte fremde Informationen zu überwachen oder nach Umständen
zu forschen, die auf eine rechtswidrige Tätigkeit hinweisen.
Verpflichtungen zur Entfernung oder Sperrung der Nutzung von Informationen nach den allgemeinen
Gesetzen bleiben hiervon unberührt. Eine diesbezügliche Haftung ist jedoch erst ab dem Zeitpunkt der
Kenntnis einer konkreten Rechtsverletzung möglich. Bei Bekanntwerden von entsprechenden
Rechtsverletzungen werden wir diese Inhalte umgehend entfernen.

Haftung für Links
Unser Angebot enthält Links zu externen Webseiten Dritter, auf deren Inhalte wir keinen Einfluss haben.
Deshalb können wir für diese fremden Inhalte auch keine Gewähr übernehmen. Für die Inhalte der
verlinkten Seiten ist stets der jeweilige Anbieter oder Betreiber der Seiten verantwortlich. Die verlinkten
Seiten wurden zum Zeitpunkt der Verlinkung auf mögliche Rechtsverstöße überprüft. Rechtswidrige
Inhalte waren zum Zeitpunkt der Verlinkung nicht erkennbar.
Eine permanente inhaltliche Kontrolle der verlinkten Seiten ist jedoch ohne konkrete Anhaltspunkte einer
Rechtsverletzung nicht zumutbar. Bei Bekanntwerden von Rechtsverletzungen werden wir derartige Links
umgehend entfernen.

Urheberrecht
Die durch die Seitenbetreiber erstellten Inhalte und Werke auf diesen Seiten unterliegen dem deutschen
Urheberrecht. Die Vervielfältigung, Bearbeitung, Verbreitung und jede Art der Verwertung außerhalb der
Grenzen des Urheberrechtes bedürfen der schriftlichen Zustimmung des jeweiligen Autors bzw.
Erstellers. Downloads und Kopien dieser Seite sind nur für den privaten, nicht kommerziellen Gebrauch
gestattet.
Soweit die Inhalte auf dieser Seite nicht vom Betreiber erstellt wurden, werden die Urheberrechte Dritter
beachtet. Insbesondere werden Inhalte Dritter als solche gekennzeichnet. Sollten Sie trotzdem auf eine
Urheberrechtsverletzung aufmerksam werden, bitten wir um einen entsprechenden Hinweis. Bei
Bekanntwerden von Rechtsverletzungen werden wir derartige Inhalte umgehend entfernen.
These listings may also fit your interest.
Your listing has been deleted successfully